Introduction
[
]
Derek Jeter is the starting shortstop for the New York Yankees he has played for the Yankees for his whole career from the years 1995-now. Throughout his 16-year major league baseball career Derek Jeter has racked up plenty of honors, awards, and trophies. He has proved to be one of the best major league shortstops in the history of MLB and you will find out throughout this page about him.
Early Career
[
]
On May 25, 1995 Derek Jeter played his first MLB game because the starting shortstop Tony Fernandez was injured and he did it in a New York Yankees uniform. In 1996 Derek Jeter hit his first major leage home run on his first true start. In that year Jeter had a .314 batting average, 10 home runs, 104 runs scored, and 74 runs batted in and ended up taking home the 1996 AL Rookie of the year award. Jeter also helped out the Yankees win the world series in 1996 and get himself a ring. Also Jeter got 4 more rings to add to his collection.
Jeter Today
[
]
A little bit after that Jeter went into his prime and making great plays at shortstop, getting hits, and clening up all sorts of awards. In 1998, Jeter got his first all-star selection and then went on to get 10 more of those throughout his long career that is still continuing on today and will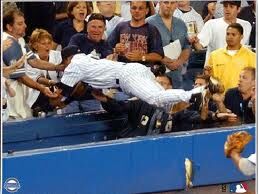 probably continue for another few years. His game at short has proven to be spectacular with 4 gold glove awards to prove that. Jeter also has 4 sliver slugger awards he is shown that he is very well-rounded.
Stats
[
]
Jeter has many impressive stats and here they are. To start off Derek Jeter is the all-time hit leader for the New York Yankees and is hoping to chase down Pete Rose and become the all-time hit leader. Jeter has over 3,000 hits in his career also has a career batting average over .300 which is identical of what he hit in his rookie year. Jeter is almost at the milestone of 250 career home runs and is almost at 2,000 runs scored. At bat, he has almost knocked in 1,200 runs in his major league career